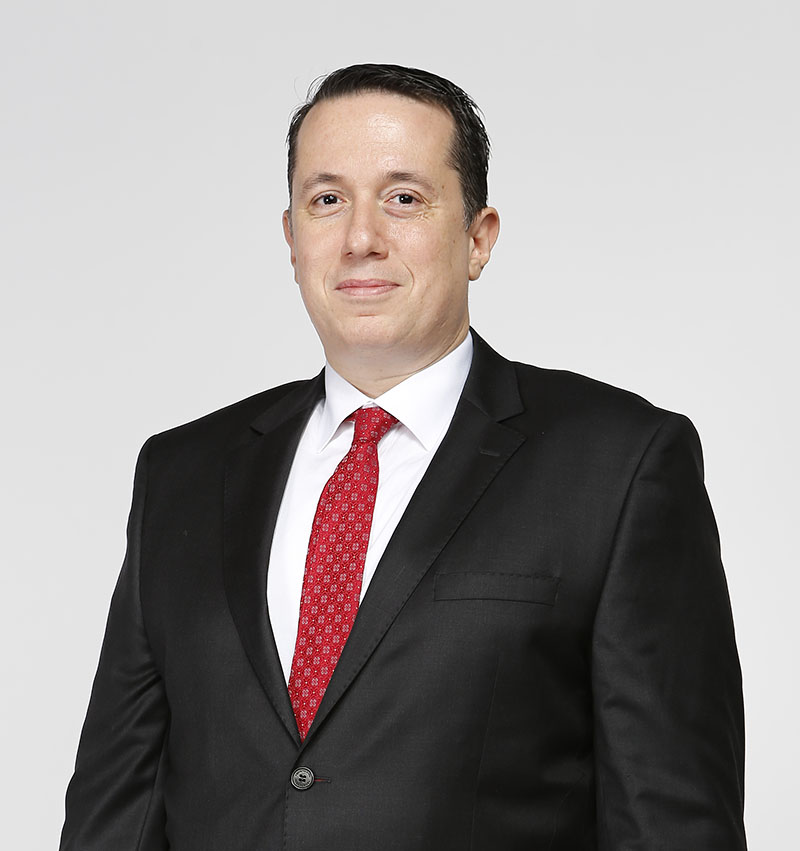 Alphan Eröztürk
Government and External Affairs Manager
ÇEVKO Foundation
Mr. Eröztürk graduated from the Environmental Engineering Department of Istanbul University in 1994 following the completion of his high school education at Şişli Terakki. He earned his MSc. degree in engineering at the same Department with his thesis entitled "Recovery of Packaging Waste in Turkey."
Since 1995 he has been working on waste management, recovery, sustainability, environmental management systems, extended producer responsibility practices, and relevant regulations. He is actively engaged in and chairs various working groups at the leading organizations in the field such as ProEurope, EXPRA and ISWA. He is a member of the Packaging and Durable Goods Assemblies of TOBB (The Union of Chambers and Commodity Exchanges of Turkey).
He has published many articles in national and international journals, and delivered lectures at national and international congresses. He has been working at the ÇEVKO Foundation for nearly 20 years, and holds the position of Government and External Affairs Manager. He is married with two children.
---
Anıl Yılmaz
Director General of Productivity
Ministry of Science, Industry and Technology
Anıl Yılmaz has been acting as the Director General of Productivity at the Ministry of Science, Industry and Technology since 2011. Yılmaz is also the Vice President of European Association of National Productivity Centers, and serves as a board member to several institutions including World Confederation of Productivity Science, Bilkent National Nanotechnology Research Center, Informatics Association of Turkey and Turkey Quality Association.

He started his career at State Planning Agency as an assistant specialist and in the 20 years that followed, he served as Planning Specialist, Head of Department, Consultant to the Undersecretary and Consultant to the Minister of State. 
As a part-time lecturer, he gave courses on e-commerce, system analysis and design.
He graduated from TED Ankara college and Bilkent University's Industrial Engineering Department.
He holds MA degrees on economy and business administration from Bilkent and Vanderbilt Universities.

---
Atilla Demir Yerlikaya
Corporate Affairs Director
Coca Cola
Atilla D. Yerlikaya holds a BA in Economics from Boğaziçi University. After having worked as a journalist and publisher for more than ten years, he took senior managerial positions at Philip Morris SA and Shell. He joined Coca-Cola İçecek in 2007 as Group Corporate Affairs Director.
Yerlikaya is currently the Chairman of the Turkish-Pakistan Business Council of DEIK (Turkish Foreign Economic Relations Board), Board Member of the Turkish-Azerbaijan Business Council and Turkish-Kyrgyzystan Business Council in DEIK, Deputy Chairman of UN Global Compact Turkey Network, and Chairman of the Public Affairs Institute.
---
Ayşe Uyduranoğlu
Faculty of Business Administration
Bilgi University
Ayşe Uyduranoğlu is an associate professor in the department of Economics at Istanbul Bilgi University. She holds a Ph.D. degree from Exeter University, England.
Her interest areas are Environmental Economics, European Union Environmental Policy, Sustainable Transport and Environmental Taxes. She was at Exeter University as a guest researcher from 2016 to 2017. She was the manager of several projects including a project on emission traded supported by TUBITAK.
---
Dr. Belma Soydaş Sözer
Biomass Energy Group Coordinator
Renewable Energy Directorate of the Ministry of Energy and Natural Sources
She was born in 1979 in Konya, Turkey. After completing her BA at Gazi University's Chemical Engineering department, she did her PhD at METU's Chemical Engineering department. During her PhD, she spent 6 months in USA as a visiting researcher at Colorado University on a TUBITAK scholarship. She published articles and delivered presentations in congresses and seminars on membrane and material synthesis and characterization.
She worked as a research assistant at METU's Chemical Engineering department between 2002-2009, and as an associate professor at Van Yüzüncü Yıl University between 2009-2013. She currently works at the Renewable Energy Directorate of the Ministry of Energy and Natural Sources as Biomass Energy Group Coordinator. She is married and has one child.
---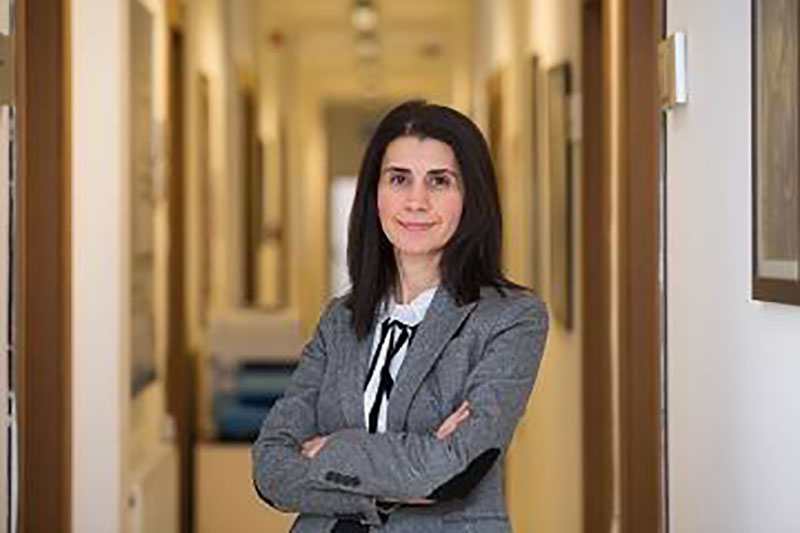 Burcu Ünüvar
Head of Economic Research, TSKB
Burcu Ünüvar who is the Head of Economic Research at the Industrial Development Bank of Turkey (TSKB) received her BA degree from University of Dokuz Eylul in Turkey and her MSc degree in Applied Economics and Finance from Copenhagen Business School in Denmark and Washington State University in USA.
She had an investment banking experience from 2004 to 2013, managing the macro-economic research from 2006 to 2013. Later she went back to her academic career and until she joined TSKB in April 2017, she was working as a full time lecturer at the Bilkent University, Department of Economics.
---
Celal Toprak
President
EGD Economy Journalists Foundation
He is a graduate of the Department of Journalism at Gazi University. He holds a Master's degree from the Department of Journalism at Istanbul University. Mr. Toprak started his career as a journalist for the Son Havadis daily in Ankara. He then moved to Istanbul to report for Turkish News Agency (THA) and ANKA. He served  as the economics editor of several newspapers including Akşam and Tercüman. He became the Media Group Head for Cem Media, and subsequently, of Artı Bir TV. He produced and presented programs for TVEM.
He served in professional organizations as well as NGOs. He is currently the general president of the Economics Journalists Association. He served for a while as the Secretary General of the Turkish Journalists Association, building on his work as an active member of the organization. He currently sits at the Board of the Turkish Journalists Association. Mr. Toprak has frequently moderated and lectured at various events organized by the  NGOs, Universities, and companies active in this business. For over five years, he has been teaching "Economics Journalism" at Istanbul Aydın University and Istanbul Commerce University. He is the Chief Editor of Kanalekonomi.com, a new generation web TV, and the Istanbul representative of Gözlem Daily.
He has been awarded by several unions for his contribution to the profession, and by many NGOs operating in the field of economics. He was chosen as the Journalist of the Year thanks to his coverage of agritourism in the Mediterranean Region.
---
Ceren Akdağ
MC
Ceren Akdağ graduated from Bilkent University's Political Sciences department and began her career in media at ATV in 2000.
She produced and resented "Hayatın İçinden" on weekdays on Habertürk until March 2013, a show which hosted significant figures to discuss every subject concerning life, from politics to sports, from literature to health. She subsequently joined Bersay Communication Group as the Unit Manager of Media Relations and Content Management.
On SkyTürk360's offer to be in front of the camera, she returned to TV. She produced and presented "Son Bakış" every evening, which hosted known figures for both enjoyable chats and in-depth analyses. She then started her new show "Hafta Sonu Aşkına" on the same channel, to include, again, both entertainment and current events.
Presenting "Sözün Özü" on TRT News on weekdays for enjoyable chats on current events, the much sought-after figure of TV, Ceren Akdağ changed lanes and transferred to TRT Sport in December 2014. She presented "Sporda Bugün" on weekdays on TRT Sport with news and guests that cover every branch of sports. Transferring to TRT News in May 2015, she aired on Saturdays with "Elçiye Zeval Olmaz", a show that covered the lives of foreign country ambassadors that live in Turkey. She continues to work as a brand consultant, producer, presenter and columnist. Most recently, she moderated "Beyaz Magazin" live every morning on Beyaz TV.
She also moderates panels in both English and Turkish at various product launches, conferences and other private events.
---
Çetin Ünsalan
TV Presenter
His career spanning 24 years, Çetin Ünsalan worked in a broad range of institutions ranging from magazines to newspapers to internet broadcasting, fulfilling a wide range of roles such as journalist, columnist, editor, editor-in-chief etc. He has been an economy news journalist in TV for the past 15 years.
He has executed journalism in various formats such as commentary after evening news, focused economy shows, panel discussions, trade fairs and live TV in a total of more than 3000 appearances. In terms of print media, he has written in economy magazines in addition to working with Ekonomik Durum, Forum Diplomatik and Tercüman newspapers. As for visual media, he has worked with Expochannel, Business Channel, Kanal Biz and Ulusal Kanal.
Ünsalan worked as the director in charge of broadcast at Shopping TV, founded as a broadcast partner of Kanaltürk. During the time he worked at Kanal Biz, he ran a weekly show on SkyTürk, and during his time at Ulusal Kanal, he did the same on BJK TV and KRT. He prepared and presented the show Ekopolitik, which aired every week day on Ulusal Kanal until Nov. 4, 2016. He still runs the show 3GEN every monday evening on KRT Culture alongside Economy Journalist Selçuk Geçer and Economist Oğul Aktuna.
Ünsalan writes a column every weekday on websites reelpiyasalar.com, paraanaliz.com, bilgeyatirimci.com, ulusalkanal.com.tr, kurultay.net and Edirne Ahval newspaper. Having also written columns for Aydınlık newspaper, Ünsalan is currently the Editor-in-Chief at industry-specific publications AYSADVizyon and Saraciye magazines and Executive Editor at the news portal reelpiyasalar.com.
---
Dr. Christoph Scharff
Circular Economy Coalition for Europe
Christoph Scharff has been dedicated to waste management in both research and practice since 1984. He holds a doctoral degree in economic science and was instrumental in setting up the nationwide separate collection of packaging in Austria.
Since 2008, Christoph Scharff is CEO and President of ARA AG, one of Europe's leading EPR schemes for packaging wastes. He is honorary professor for waste management at the Vienna University of Technology and author of several national and international publications in the field.
From 2000 – 2002, Christoph Scharff was President of the International Solid Waste Association (ISWA). Today, he is Honorary Member of ISWA. In 2015, Christoph Scharff was the initiator and founder of the Circular Economy Coalition for Europe (CEC4Europe).
---
Pharm. Fügen SOYKUT
Scientific, Regulatory and Public Affairs Director - L'Oréal
Fügen Soykut completed her undergraduate studies at the Faculty of Pharmacy of Istanbul University, and then started her career as an expert in Quality Management Department at Unilever. After her task as a Quality Management Supervisor, she assigned as the Research Officer and Research Manager of Cosmetic Unit at Unilever.
Between 2002 - 2008, she has assumed the position of Product and Process Development, Quality Assurance and Regulatory Manager of the IPEK brand, leader in Turkey's economic hair care category. Since 2009, she has been in charge of Scientific and Regulatory Affairs Director, Scientific & Regulatory Affairs and Consumer Advisory Director of L'Oreal Turkey, respectively. She took an additional responsibility as Public Affairs Director at the end of 2015. As of 2016, she became a Member of the Board of Directors as Scientific, Regulatory and Public Affairs Director.
She represents L'Oreal in trade associations, institutions, competent authorities and governmental bodies.:
Cosmetic and Cleaning Products Industry Association: Board Member
Çevko - Environmental Protection Waste and Packaging Waste Recovery Foundation: Board Member
YASED, RVD .TOBB and similar professional associations and organizations: L'Oreal Representation in working groups and committees
Ministry of Health, Ministry of Science, Industry and Technology, Ministry of Customs and Trade: L'Oreal Representation.
The Sustainable Environment, Sustainable Science, and Sustainability in History are of particular interest.
---
Gianpiero Nacci
Scientific, Regulatory and Public Affairs Director - L'Oréal
More than 20 years experience in Sustainable Energy and Sustainable Manufacturing. He holds an MSc in Mechanical Engineering from the Politecnico di Torino and MSc in Renewable Engineering from the University of Oldenberg Germany.
Before joining EBRD in 2003 he was with Enron, Fiat Engineering and IT Power India. At EBRD he is Deputy Head of Energy Efficiency and Climate Change Department and Head of Climate Finance, Direct Finance and Climate Resilience teams.
---
Hasan Arslan
Vice President
EGD
Hasan Arslan was born in 1979 in Samsun. He graduated from the Department of Journalism at Istanbul University's Communication Program, which he attended following his high school education in Samsun. He started his career in 2002 as Assistant Producer and Director at TRT (Turkish Radio and Television) before joining IBB (Istanbul Metropolitan Municipality) in 2004 as Press Consultant for 5 years.
Mr. Arslan then joined Anadolu Ajansı as reporter in 2009, and became Deputy Editor of Financial News in 2014, a role which he currently holds.
Mr. Arslan is the Vice President of Economics Journalists Association (EGD), and a member of Automotive Journalists Association (OGD) and Turkish Journalists Association (TGC). He sits at the electoral board of EGD's "Economics Press Achievement Awards," and teaches journalism at Universities' Communication programs.
Mr. Arslan speaks English.
---
Hüseyin Karamehmetoğlu
General Manager
Pınar Su
Mr.Huseyin Karamehmetoğlu was born in Erzurum 1968,graduated from Hacettepe Universty Business Adminisration Department.
He started his career in 1990 as a sales assistant at Unilever. Karamehmetoğlu joined Yasar Group in 1993 as a Sales representative in Yapaş A.Ş. and he served as Sales Chief and Regional Assistant Manager respectively. Between September 1999 and October 2002, he served as the Ankara Regional  Manager of Yaşar Birleşik Pazarlama A.Ş. and the Eastern Director between November 2002 and December 2010. Since January 2011, he has been working as General Manager in Pınar Su Industry and Trade Inc.
At the same time he is SUDER Packaged Water Generation Association and Board Member of ÇEVKO Environmental Protection and Packaging Waste Assessment Foundation.
He is married and has two children. Karamehmetoğlu speaks English.
---
Konca Çalkıvik
BCSD Turkey, Executive Director
Konca Calkivik began her career at Standard Chartered Bank in 1989. She joined the Eczacıbaşı Group in 1990. She took part at the establishment stage of VitrA Tiles Company and led the foundation and management of the sales organization of VitrA ceramic tile products. Mrs. Calkivik represented the company worldwide between 1996 and 2006. She worked actively in Turkish Ceramics Promotion Committee which was part of the Ceramics Federation. While she was working as the Marketing Manager, Mrs. Calkivik focused on innovation and sustainability. She joined BCSD Turkey as Project Manager in March  2012. Since February, 2013 Mrs. Calkivik is the Executive Director of BCSD Turkey.
Konca Calkivik is a graduate of Bosphorus University, Department of Political Science and International Relations, is highly proficient in German and English.
---
Mario Schembri
Board Member
EXPRA
Ing. Mario Schembri has over twenty years' experience in the environment field and is a leading expert in waste management. He has worked at many levels on several waste related projects including strategy policies, impact assessments, public procurement and promoting waste reduction and recycling practices both in industry and with the public. Mario Schembri has served as a key expert on several multi-million euro projects and is a regular speaker at international fora in the field of waste. He has a first degree in engineering and a Master's degree in Environmental Management.
Mario Schembri has occupied the post of CEO of GreenPak, an Extended Producer Responsibility organisation, since its formation in 2005. He is a member of the Malta Chamber of Commerce environmental group and also serves as a board member of the Brussels based Extended Producer Alliance, EXPRA, the not-for-profit umbrella organisation for packaging and packaging waste recovery and recycling systems.
---
Mehrali Ecer
Climate Change Department
General Directorate for Environmental Management
Republic of Turkey Ministry of Environment and Urbanization
Mehrali Ecer graduated from Dokuz Eylül University, department of environmental engineering. He has worked as an auditor of environment in BOTAS Directorate Baku- Tbilisi- Ceyhan crude oil pipeline project between 2004–2006.
In 2006, he began working as environmental engineer in the Ministry of Environment and Forestry Directorate General of Environmental Management. In the Ministry of Environment and Urbanization; he still works on climate change-related national and international activities of the United Nations Framework Convention on Climate Change and the Kyoto Protocol.
In 2007, he has participated in the preparation work of the climate change of 1st National Statement and Greenhouse gas emissions inventory. In 2008, he has participated to the study of Temporary Special Commission about 'Kyoto Protocol Flexibility Mechanisms and Other International Emissions Trading Systems' established within the Ministry. In 2009 he attended to the National Climate Change Strategy work. He has participated to the two-months training program: 'Capacity Building towards the Kyoto Protocol Flexibility Mechanisms' organized by JICA in Japan. Since 2007, he participates to the international meetings of the United Nations about Framework Convention on Climate Change.
Mehrali Ecer is married and have two kids.
---
M. Mete İmer
Secretary General
ÇEVKO Foundation
Born in Ankara, attended T.E.D. Ankara College and graduated from the Middle East Technical University as a Mechanical Engineer (B.S.).  Obtaining Fulbright Scholarship, he studied at the Ohio State University, USA to receive his M.S. degree.  He also got Postgraduate Certificate in Management Studies from the University of Hull, UK.
He started his business career in 1988 in the U.S. at a multinational company, also worked in Belgium before returning to Turkey. He worked at managerial positions at various multinational companies in Turkey before joining ÇEVKO Environmental Protection and Packaging Waste Recovery Foundation in 2003 as the Secretary General.
---
Pelin Cengiz
Journalist-Writer
She has been a journalist at various magazines and journals for 23 years. She graduated from the Journalism Department of Marmara University's Faculty of Communication. She began her career as a journalist at Dünya Daily in 1994 and subsequently worked at the İntermedya magazine group, Günaydın, the Doğan group, Star and Vatan. From 2007 to 2015, she worked as an editor, writer and director of the economy desk at Taraf Daily.
She has been writing on the environment, climate change, ecology and energy policies since 2009. She wrote articles for Today's Zaman newspaper. She runs the weekly show "Economy & Ecology" at Açık Radio. She has articles published on the Platform for Independent Journalism P24 (platform24.org). She is currently a columnist at Haberdar.com.
---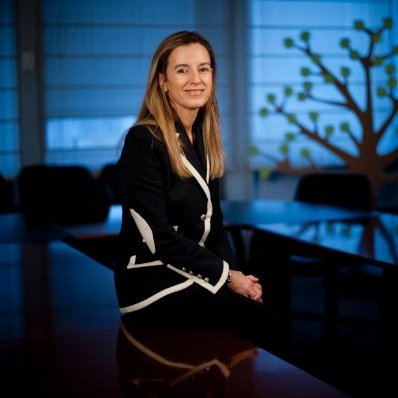 Rosa Trigo Fernández
Technical and Innovation Director
ECOEMBES
Rosa Trigo had a PhD in chemistry from the University of Madrid and Masters in Science and Technology of Polymers from the Plastics and Rubbers School of CSIC.
She began her career in 1995 in the plastics industry in the Plastics and Environmental Foundation developing management, consulting and communication projects in the field of waste plastics. She joined Ecoembes in 1997 where currently is the Technical and Innovation Director developing tasks related with the design, development and operation of the management system, production in sorting plants, quality control and waste composition analysis of materials, management of tones recovered ensuring its proper destination through the recycling sector,  out of home projects,  and research and development projects among others. Collaborates in different schools as a teacher in terms of waste management, also as speaker at various relevant national and international environmental forums. Finally takes part in the European Technical Working Group in order to optimize the treatment systems and the recycling household packaging.
---
Rüştü Bozkurt
Journalist-Writer
He was born in 1943. He graduated from Bursa Education Institute (1965) and Eskişehir Economic and Commercial Sciences Academy (1971).
After working as a teacher at Eskişehir Tunalı Middle School for ten years, he started working at Eskişehir's Sonolay Daily run by the Web Ofset Group. He has been a board member of Bursa Education Institute Student Association, Turkish National Student Federation and Turkish Teachers' Trade Union. He joined Eskişehir Chamber of Industry as a 'researcher'. He was appointed as a deputy lecturer at Istanbul Economic and Commercial Sciences Academy. He completed his Ph.d. at this institution (1982).
He worked at the Planning Directorate of Turkey Şişecam Factories Inc. (1982). He worked as a Planning Specialist, Deputy Director and Secretary General at Şişecam. He has focused on the issues of small and medium sized businesses since 1975. He shared his observations in his newspaper and magazine articles. His work won him Turkish Journalists Association's "Nezih Demirkent Award", Economy Journalists Association's "Columnist of the Year Award", MÜSİAD's "Economy Writer of the Year Award", KOSGEB's special award for individuals who help SMEs and the "Award for Contribution to Innovation" by the Ministry of Economy and Turkish Exporters' Assembly
He received awards from numerous NGOs for his contribution to various industries. He has been writing at Dünya Daily continuously since 1981. He also writes articles on "management" in various industry-specific magazines published by NGOs.
---
Selim Tansuğ
Unilever Personal Care Supply Chain Director
Graduating from Uskudar American Academy, Selim Tansuğ had his undergraduate degree with major in Industrial Engineering & minor in Mathematics from Sabanci University. He joined Unilever family in 2004 as a Planning Specialist in Unilever Central Asia. Then onwards, he worked as Warehouse and Distribution Manager, Customer Service Manager, New Ice Cream Factory Project Director and Factory Director. His recent role as Home and Personal Care Supply Chain Director involved overseeing the existing factory in Gebze area and leading the biggest FMCG investment in the past decade for the new factory in Konya.
Selim is married with one daughter.
---
Stéphane Arditi
Policy Manager
European Environmental Bureau
Stephane Arditi works as a Circular Economy policy manager within European Environmental Bureau (EEB), a federation of more than 150 ENGO's across Europe. Before joining EEB, Stephane worked as a Quality/Lean consultant for the industry in France and UK. He also collaborated to academic research programs on energy efficiency in building and evaluation of sustainable development policy in France. In his daily work, Stephane tries to promote circular economy business models, policy instruments and innovative practices aiming at resources and energy conservation and prevention of waste.
---